Basketball tryouts for girls in grades 6, 7 and 8 will be on Thursday, September 29 from 5:30 - 7:00 pm. All athletes must have a current physical and signed paperwork (permission to participate, insurance, and concussion) in order to tryout. Forms will be available at HMS prior to tryouts and they were handed out to all athletes who signed up to try out. Contact Coach McDaniel if you have questions.
Friday, Sept. 30 is Fall Picture Day. No payment is due at that time. Preview your pictures the following week and place your order. Dress code applies on picture day.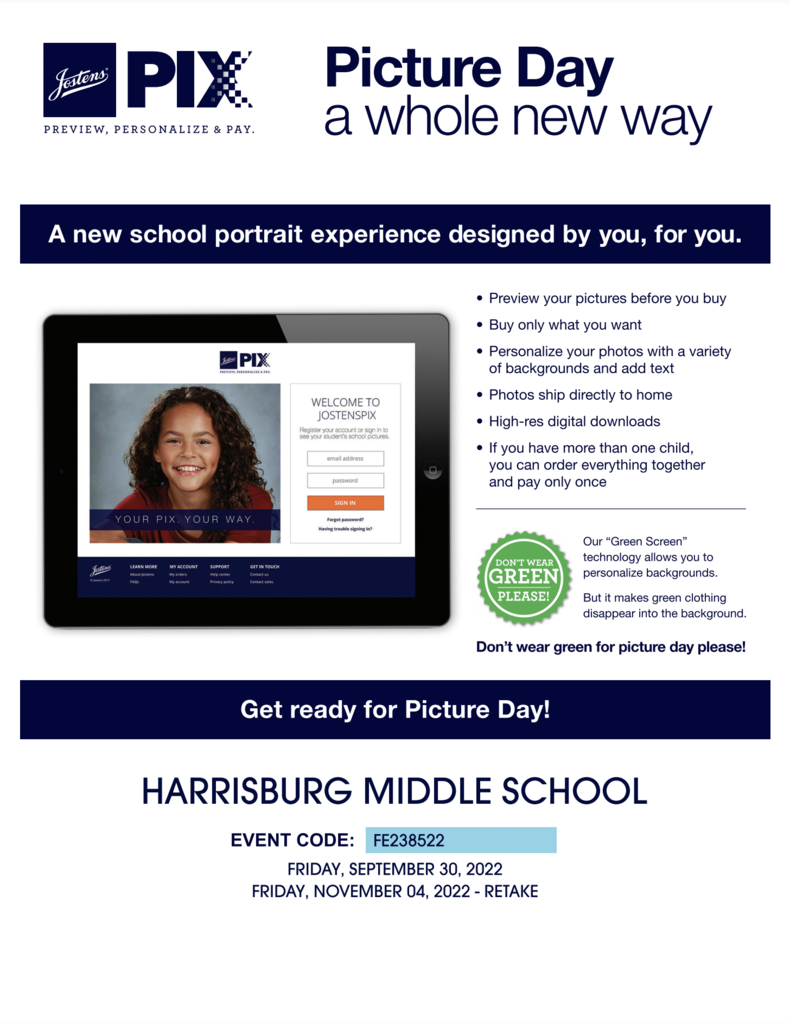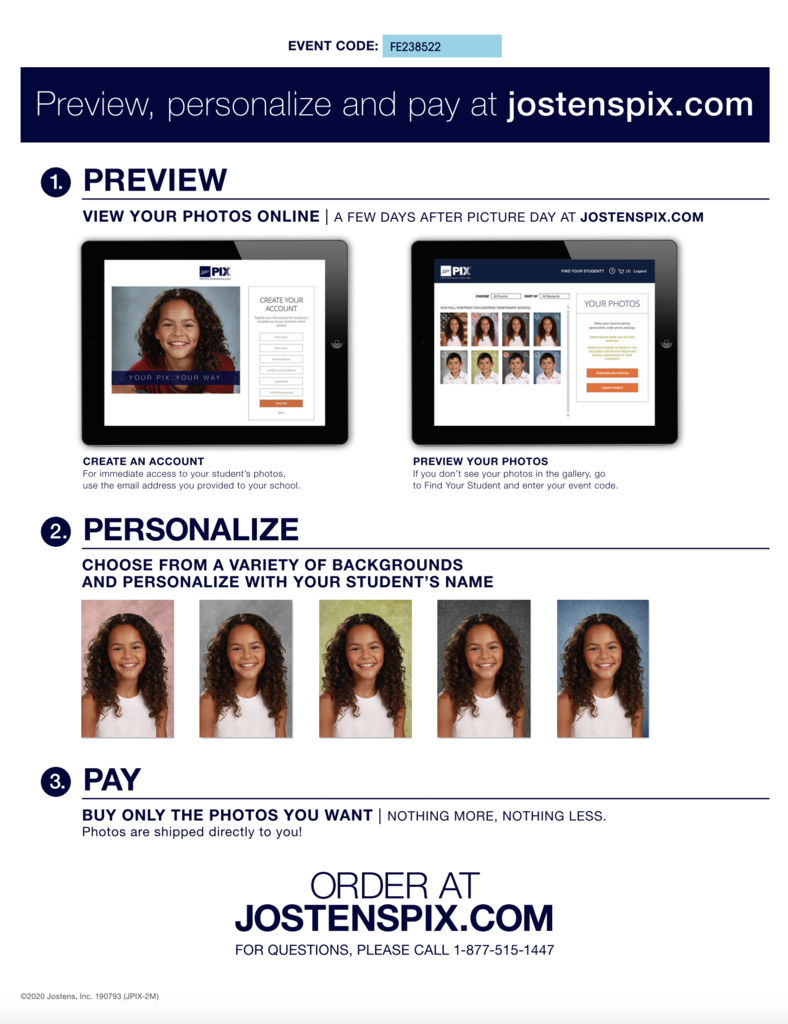 If you want to make a quality connection with your child, put the phone down, turn off the TV and spend a few quality minutes together and talk to your kids about the risks of alcohol. For more information, visit theelephantisintheroom.com.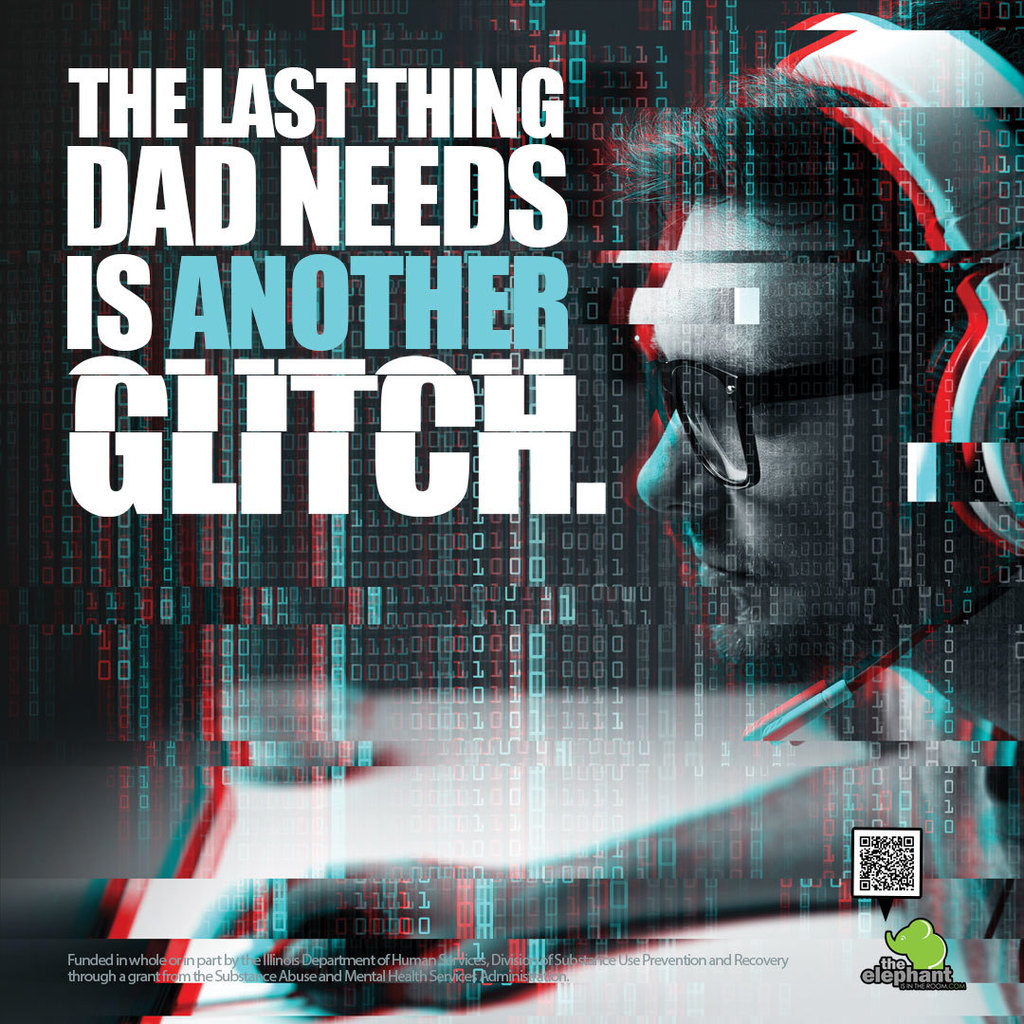 This is a reminder that we have parent-teacher conferences at HMS today in the gym from 3:30 - 6:30 pm. Enter through the front doors under the awning. Midterms will be handed out as you enter the building.
The cross country meet scheduled for today in Marion is cancelled.
This is a reminder to all HMS parents that we are on regular schedule starting today. Students who are picked up will be dismissed at 2:45 pm. All other students are dismissed at 2:50 pm.
Message from The Elephant in the Room: Have you talked to your kids about the risks of underage drinking yet? Do they know that you'll catch them if they try it? Yes? No? Ooh, the plot thickens. Hurry up and do it soon, the suspense is killing us! For more information visit
https://theelephantisintheroom.com/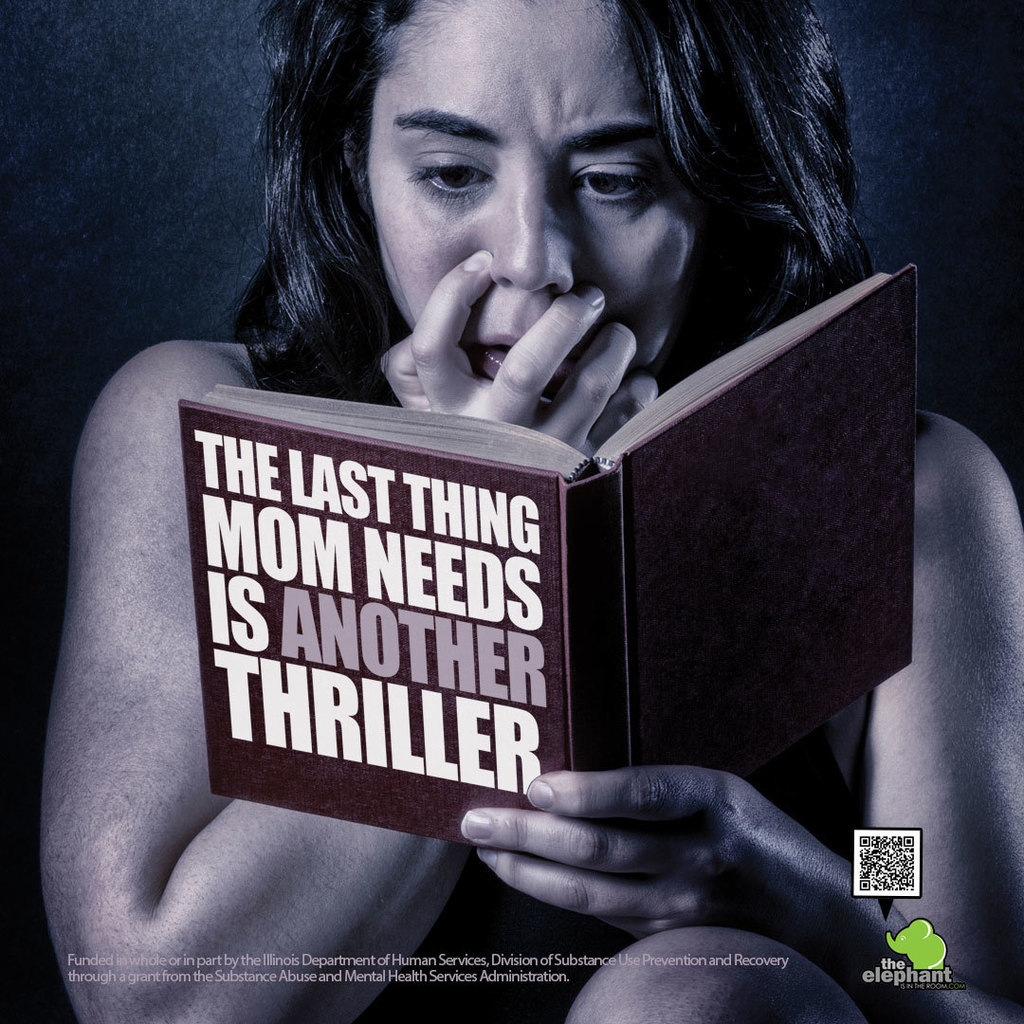 HMS Baseball and Softball individual pictures will be taken by Iconik Studios on Aug. 30 starting a 2:15 at HMS. Team pictures to follow at the fields. No money due on picture day.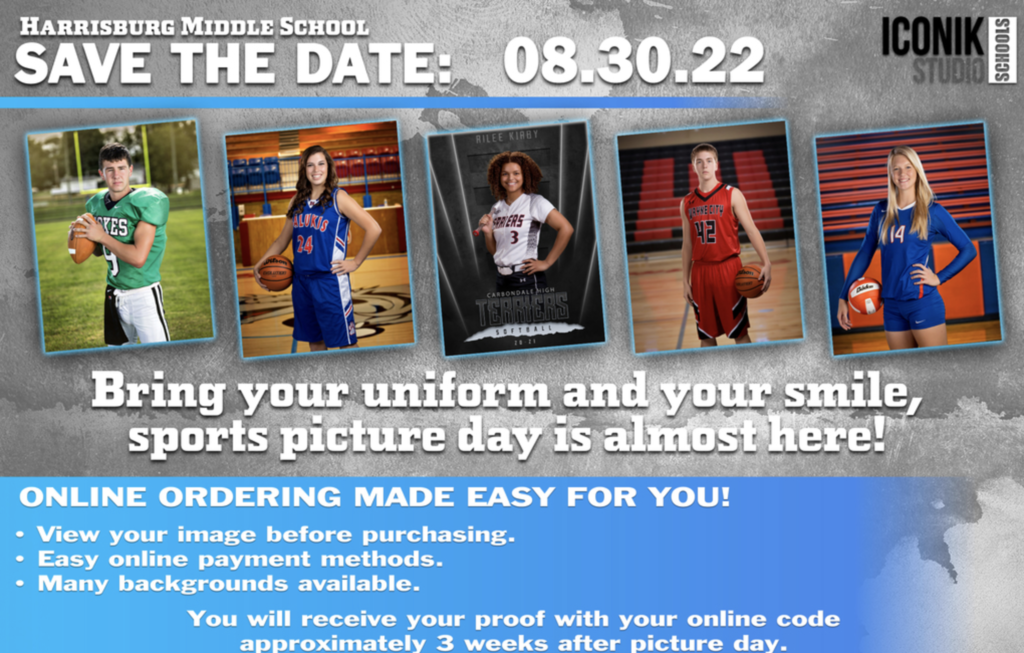 HMS Baseball and Softball individual pictures will be taken by Iconik Studios on Aug. 30 starting a 2:15 at HMS. Team pictures to follow at the fields. No money due on picture day.
We are excited to have our students back at HMS! We want to remind you that we are on a 2:00 dismissal schedule until after Labor Day. Drop off went extremely well this morning. If you pick your child up from school, please be here at 1:50 pm. There are two lanes in front of the school for student pickup. The lane closest to the school is the bus lane. Please do not park in or block the bus lane. Buses have the right of way. All other vehicles must yield the right of way. For the safety of our students, you should not park on Bulldog Blvd. All other students will be dismissed to their buses at 2:00 pm. Have a great day!
HMS 2022-23 Yearbooks are on sale now. Prices start at $25. Purchase during registration this week or purchase online at jostensyearbook.com. Don't miss out!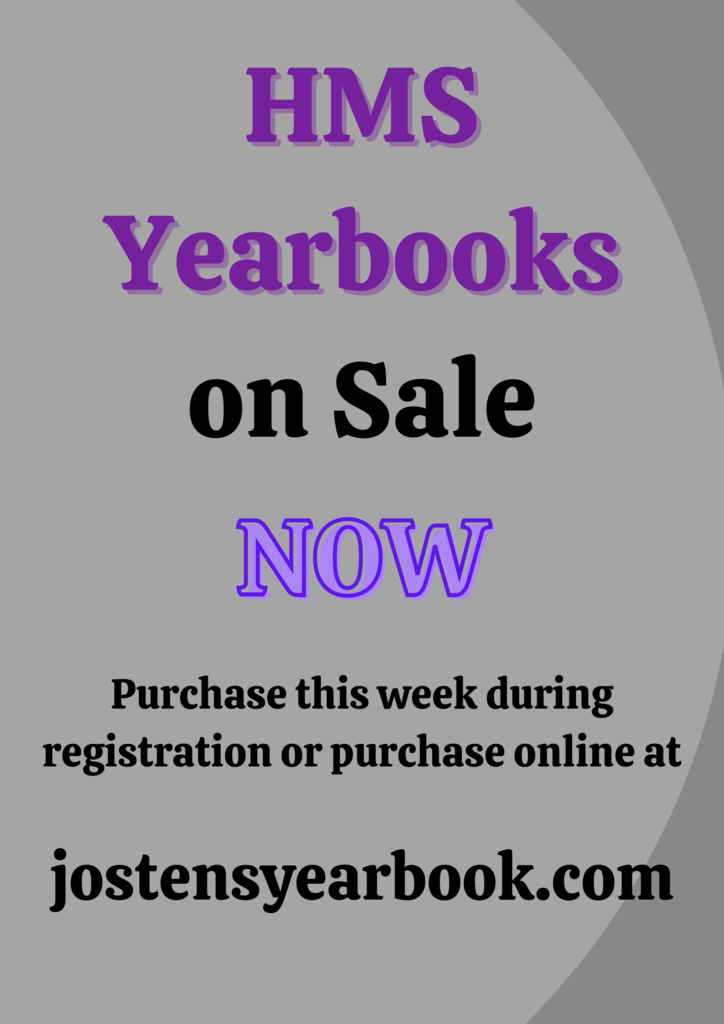 HMS parents, please do not forget to get on PowerSchool and register your students or to finish registration if you have started it. A form was added after registration started and you may still need to complete it. If you do not have access to the Internet or a computer, we will have computers available here next week during registration. All registration will be online. You should have received login information in the mail. Only use this login information if you do not already have a PowerSchool account. If you have questions, you can email
msregistration@harrisburg3.org
.
Girls' softball tryouts are moved to Jay Thompson field at Dorris Heights (the boys' field) - 4 pm to 6 pm tonight (7/26/22).
Important Information for HMS Softball and Baseball players - Tryouts for softball are Monday, July 25 and Tuesday, July 26 from 4 - 6 pm at Centerfield diamond at the park. Tryouts for Baseball are August 2 at 9 am at Jay Thompson Field (Dorris Heights). You must have a CURRENT PHYSICAL to tryout. You will also need a SIGNED PERMISSION TO PARTICIPATE, VERIFICATION OF INSURANCE AND CONCUSSION POLICY to tryout. You can download these from the school website (click on 22-23 HMS Athletic Forms) or a parent or legal guardian can sign them at the field prior to tryouts. Contact Alicyn Dowdy (softball coach) or Jay Thompson (baseball coach) for more information.
https://www.harrisburg3.org/o/hms
The Harrisburg Middle School volleyball and girls basketball teams are having a rummage sale tomorrow, June 11, in the HMS gym from 8:00 am - 2:00 pm. Also, if you have any items to donate, you can drop those off at HMS today until 7:00 pm.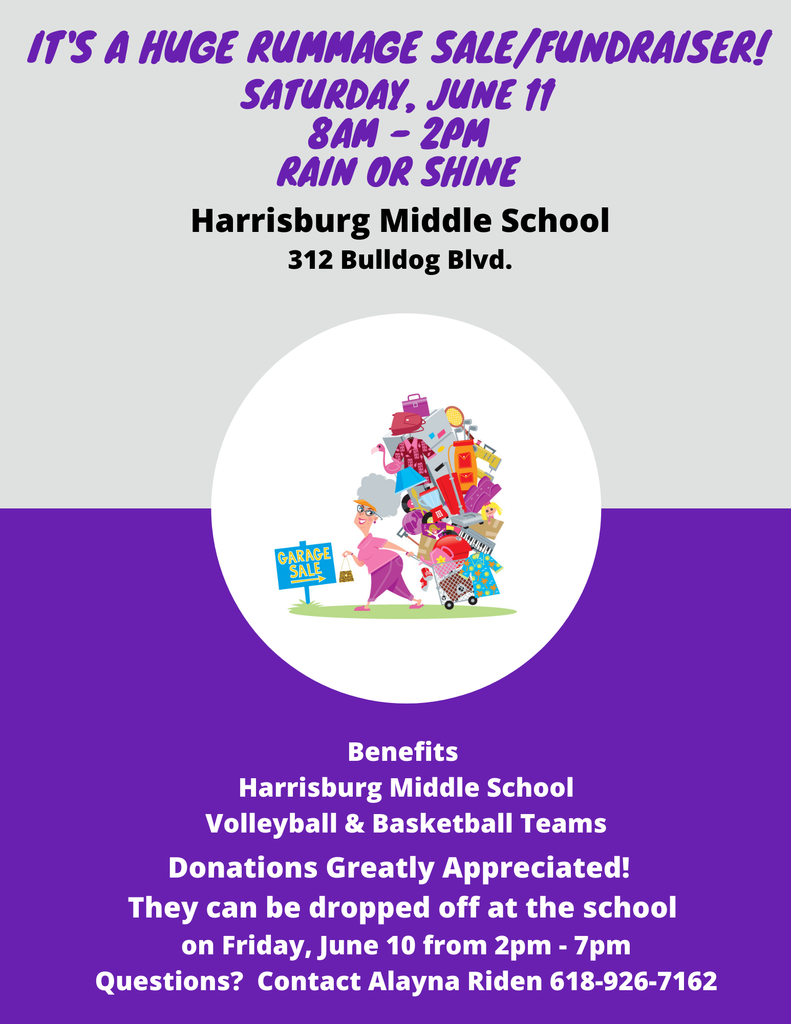 House Competition Day is tomorrow. Students need to wear their House t-shirts to earn points for their House. Students will be outside most of the day. The weather is supposed to be 80º and mostly sunny. Please make sure your child dresses for the weather and brings sunscreen if needed. Dairy Queen treats will be available for purchase for $2 each and sodas will be available for $1 each. Students should also bring their water bottles. School dress code applies.
Our final dance of the year is tonight from 5:30 - 7:00 pm. Doors will open at 5:30 and admission is $5. HMS students only. Dress code applies. Concessions will be available. Please pick your child up promptly at 7:00 pm.
Important Information for 8th Grade Parents: 1. Students will be bringing home a second copy of the note that was originally sent out on April 21 which includes important information regarding the Promotion Ceremony on May 24. Please make sure you ask them for this note. There will also be a copy posted on our HMS Facebook page. 2. Students who are eligible to attend Holiday World will have a note today that must be signed and returned on Monday, May 9.
8th Grade T-Shirt Order Forms and Money are due tomorrow. These shirts will be worn at the Promotion Ceremony and at Holiday World for those who are eligible. The cost of the shirt is $15 for sizes small through XL and $17 for 2XL or larger. Please send the form and money to school tomorrow.